I am so glad I was told the trail was a mile long and never has snow.
Both of which are horribly inaccurate, but knowing that might have kept me from hiking to the top of a mountain today.
We set off from the trail head at 9:30 am. The muddy beginning of the path was frozen. Have you hiked on frozen mud? Your brain gets in the way. Trust your feet. Not quite a mile in we came to sign post. Which way? We decided to go to the top.
It isn't too much further until you start hiking through the "enchanted forest." These are some of the larger trees not logged at lower elevations in Southern Oregon. Unfortunately, there were fewer of these trees than I had hoped. But they are great. I think I saw the largest (non-Ponderosa) pine tree of my life.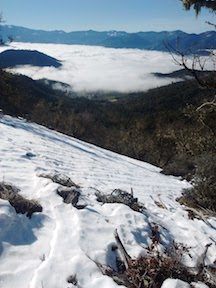 It was very wet out there. Luckily I had my new boots. A few times the path suddenly becomes a creek. Once the trail started to really climb the mountain, water was no longer an issue. At the first outlook I could see the ridge of the nearby mountain. Another steep mile and the views really started.
The beautiful Applegate valley lay out before our eyes. The valley floor was covered in mist.
Overall
I recommend this trail. I hear that it is great in the spring with all the flowers. Not sure if any paintings will come out this hike, but it was sure great to get out and see more of this beautiful world.
Sign up to receive!
See Works in Progress
Newsletter with exhibitions and events, & outdoor experiences
Art deals only offered to collectors and people on the email list
Follow me here:
Share this post: